Photo courtesy of Joel Eklof, University of Washington Hydro-Biogeochemistry Group
Recently some of the folks at Wingscapes had a chance to talk to a true Super User of TimelapseCam Pro. Joel Eklof is a Ph.D. student at the University of Washington in Dr. Rebecca Neumann's Hydro-Biogeochemical Research Group.
This team is doing permafrost research. What is permafrost? Permafrost is a layer of ground on or under the earth's surface that has been frozen for two or more years. Why is it important to study permafrost? According to Joel, this study aims to give a more complete understanding of the environmental controls that influence rates of permafrost thaw and resultant wetland greenhouse gas emissions under both current and future climate conditions. There are a lot of environmental controls that can be tracked to see what is affecting permafrost thaw and wetland emissions, but what they use the Wingscapes timelapse cameras for is to measure snow depth when the site is difficult to access. This all has to do with global warming…a topic we can all be interested in.
Joel is passionate about utilizing Wingscapes timelapse cameras because they have proven themselves to be sturdy and reliable in the sub-freezing temperatures in Alaska where he is doing this research. Because of the punishing wintry conditions and the need to minimize snow disturbance, the Timelapse Cams are left in the wilderness for 4-5 months at a time. Joel's team utilizes poles with orange height indicators, Wingscapes Timelapse Cams, and sophisticated imaging software to estimate daily snow depth to within 1 centimeter of accuracy. Impressive stuff! Over the last 4 years of study, the Wingscapes Timelapse cameras have proven reliable in these harsh conditions, providing Joel and the team a cost-efficient means to gather critical data. The study is planned for another 2 years and of course, the Wingscapes Timelapse Cam will be there to assist.
Some of the features that make the TimelapseCam Pro cameras the "go-to" brand for the Hydro-Biogeochemistry Group are not only their cost savings and reliability, but they find that regular trail cameras often do not include a timelapse function. Since the TimelapseCam Pro can be programmed to take pictures at a specific time every day, this makes the consistency of their data extremely valuable. This team of researchers plans to continue using the TimelapseCam Pro in future research. If you want to know more about this fascinating field of study, and learn more about the team's ongoing research, follow Joel on Twitter (https://twitter.com/EklofJoel), or visit the UW research group's website (www.uwhydrobiogeochem.com).
Thank you, Joel for doing what you do and allowing Wingscapes to be a part of it!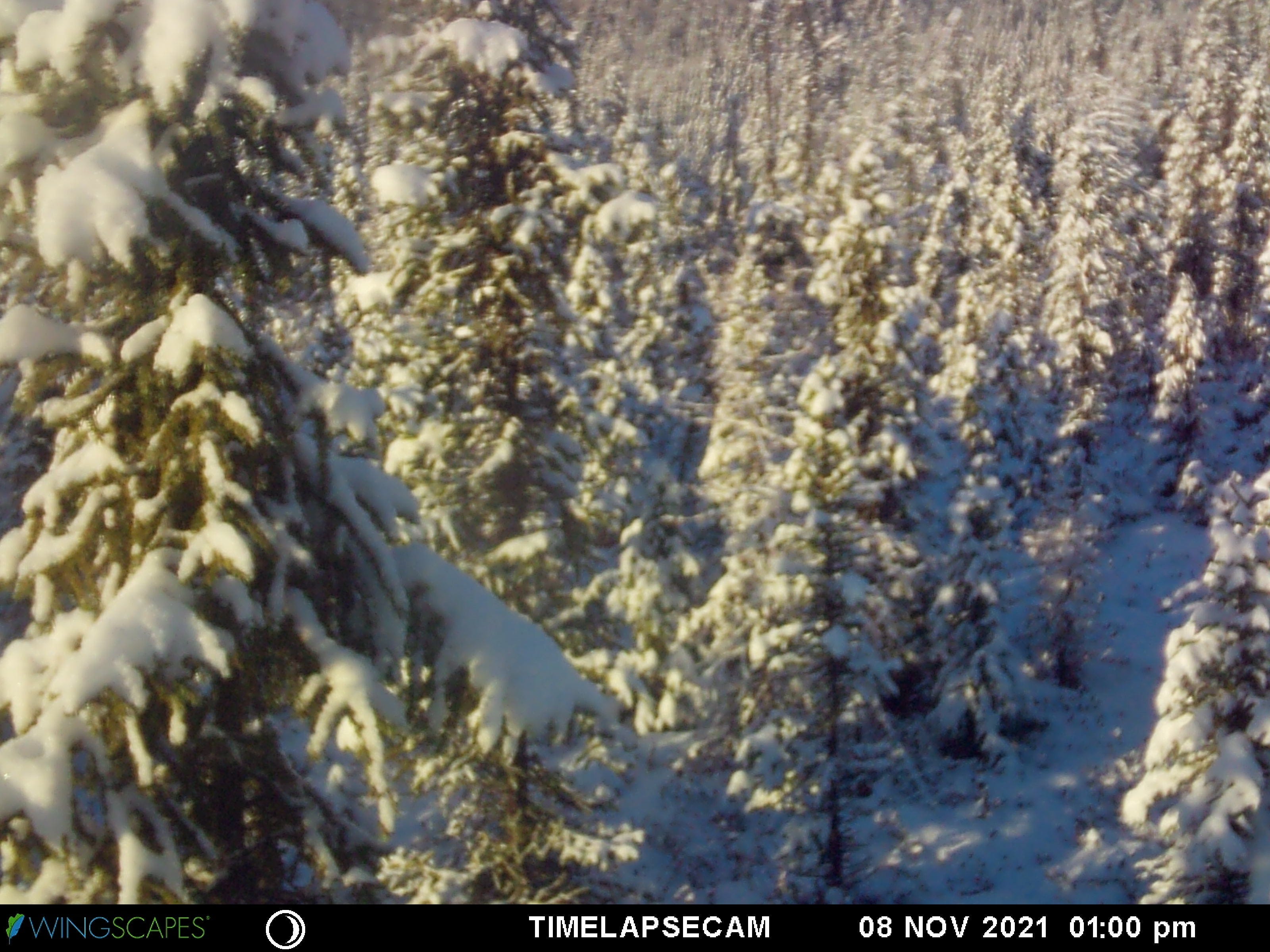 Permafrost underlain forest and black spruce trees covered in snow during the winter months.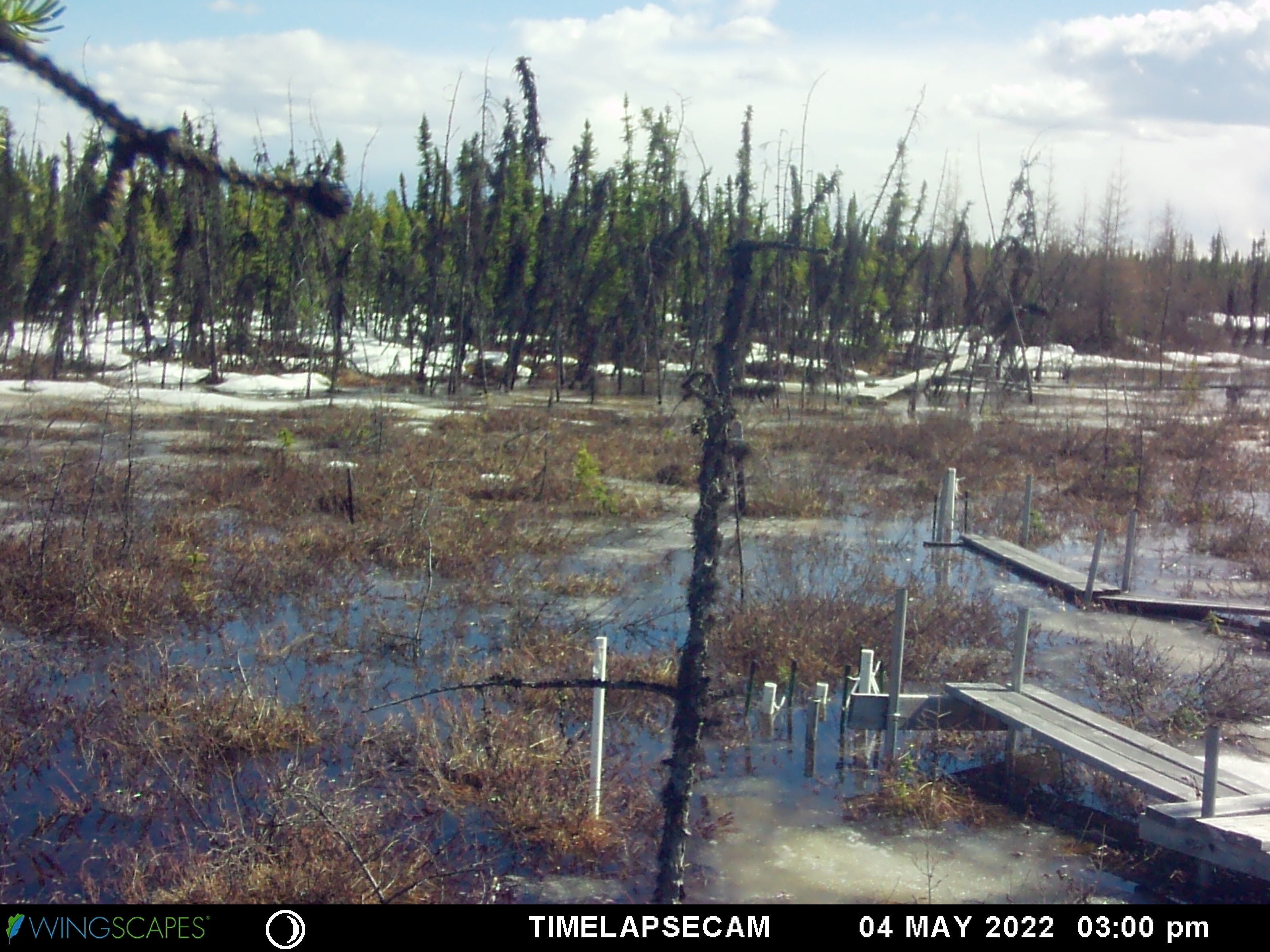 Wetland (bog) locations during "ice-out" when the snowpack rapidly melts. You can see how the bog soils flood right after the snow melts!